It all starts with the grip
A better grip facilitates proper form and allows you to focus all your attention and energy on the work you are doing.
ULTIMATE WEIGHTLIFTING GRIPS
SEE WHAT OUR GRIPS CAN DO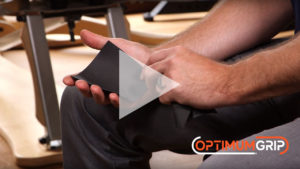 WHEN YOU USE YOUR OPTIMUM GRIP EVERYTHING IS SIMPLY BETTER.
Better Grip
Your Optimum® Grip will protect your hands, give you a better feel, better connection, and will become even better with time and use.
---
Better Form
Your Optimum® Grip enables you to use your best form. More energy and effort become concentrated in moving the weight.
---
Better Workout
Your Optimum® Grip facilitates better repetitions when you are most fatigued near the point of reaching muscle failure, where you will make your best gains.
---
Better Recovery
Your Optimum® Grip protects your hands and wrists from wear and tear. You will optimize your time in and out of the gym with fewer injuries.
---
Better Results
Your Optimum® Grip maximizes workout when your body is prepared to make the biggest gains.
---
Simply Better
We patented the Optimum® Grip for you, to give you your best possible workout tool because sometimes something simple is actually better.
---
SEE OUR CUSTOMERS RESULTS + REVIEWS